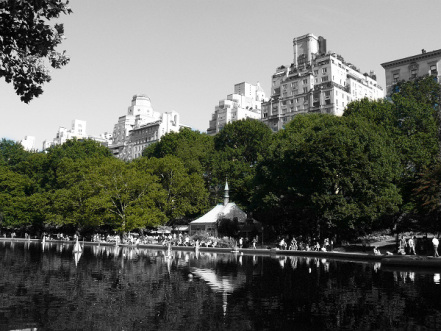 It's easy to take them for granted, but trees are a living, breathing part of our communities. Trees are commonly associated with where they grow naturally: forests, fields, mountains and other "natural" areas. Although trees aren't immediately associated with cities, urban areas are where trees have some of their greatest benefits—and that's often where they're most needed.
Now, haphazardly planting trees in an urban area will likely bring some benefits, but to maximize the cooling power of trees, research and management is required. This process is known as urban forestry, which the Sustainable Cities Institute defines as "the art, science, and technology of managing trees and natural systems in and around urban areas for the health and well-being of communities."
Urban forestry has become increasingly important as global temperatures have risen because, simply put, trees go a long way toward cooling cities off.
New York
America's biggest city has gone a long way toward becoming the largest proponent of urban forestry—the Big Apple has increased its tree count by nearly 20 percent in the past 10 years. New York's trees go to work for the city every day by sequestering over 42,000 tons of carbon emissions per year. Trees in the city also intercept 890.6 million gallons of stormwater per year, which saves the city over $35 million annually.
Chicago
The Windy City has set its sights on developing a tree canopy to cool the city and reduce carbon emissions. A positive consequence of Chicago's tree canopy has been a rise in property value for homes and buildings with multiple trees on-site. The City boasts 17.2 percent total tree coverage and about 3.6 million total trees in the city, which is more than one tree per resident.
Seattle
Seattle's 4.35 million trees help the city save $5.9 million in energy costs and store 2 million pounds of CO2. Like Chicago, Seattle has succeeded in creating a tree canopy that covers 23 percent of the city, and the city's trees remove 725 metric tons of pollution from the environment annually, valued at $5.6.
Urban forestry initiatives are significant because they often catch on to individual residents who take up their own personal forestry projects. At USAgain, we've planted trees in St. Louis, in partnership with Habitat for Humanity, in St. Paul, Minn., in partnership with St. Paul Parks and Recreation, and in Oakland, in partnership with the Oakland City Council. We've also committed to sponsoring 200,000 new trees across the world with Trees for the Future, a non-profit agroforestry organization.
We hope to see more trees grow along city streets and in urban parks throughout the U.S.
As EPA research shows, trees in cities can reduce peak summertime temperatures by 2-9 degrees Fahrenheit so it's been statistically proven that trees are pretty cool.