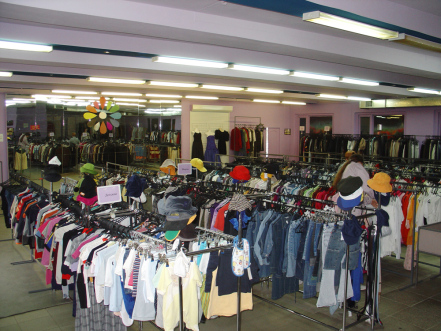 When recycled clothing gets a second life that can mean a lot of things. Most clothing collected by USAgain and other textile recyclers is reused in its original form as secondhand clothing, but what about the stuff that's too worn out to be re-worn?
Clothing resale outlets typically don't sell clothing that's deemed to be defective, but to recycling companies, such items are still perfectly OK. When you recycle the stained, old T-shirt you used to wear for gardening or working on the car, there's a good chance it'll be turned into a cleaning rag, mop or similar product. Ironically enough, clothing too dirty to be re-worn is ideally suited to be turned into cleaning materials.
Cloths and rags
Companies like Coastal Wipers sell a considerable selection of wiping cloths and shop towels made from various recycled clothing items. Buying recycled towels is a smart alternative to buying new ones, and industries (notably the oil industry, ironically) have been using recycled shop towels for quite a while. There's really no need to use precious cotton, water and other resources to produce cloths that could be made from recycled items. In fact, about 17 gallons of water is used to produce a new shop towel—17 more than to create a recycled one.
Design items for the home
Many recycled textiles are made into wiping rags and other cleaning products, but contrary to what you might think, textiles are recycled into products for other uses.
Jinja, a Portuguese company that sells products made from recycled textiles, offers some of the most aesthetically appealing items made from recycled textiles.  A few of their recycled items, including this Jackson Pollock-inspired placemat and wine bottle coolers, prove that textiles can be recycled into more than cloths and rags—they can be made into interior design pieces with a bit of flair.
Insulation
Have a ripped-up pair of jeans lying around? By recycling them, your jeans may very well be broken down and turned into insulation. Cotton Blue To Green, a nonprofit insulation manufacturer, gives recycled denim a new life by turning it into UltraTouch insulation, manufactured by Bonded Logic. This denim insulation is safe to use and works exactly like normal insulation, and of course, no new resources are needed to create it, just old, unwearable jeans.
According to EPA data, all textiles are recyclable but only 15 percent actually are. These mistakenly trashed items often include the ripped, stained and damage items that are no longer suitable for regular wear. While it may be fair to say a ripped article of clothing is no longer fit for reuse, it's patently false to say it's useless—it's a perfect fit to be recycled into something new.
We'd be remiss if we failed to mention the economic gains made possible by the recycling of textiles. Recycling clothing also creates ten times more jobs than waste removal and landfilling. Recycling textiles creates jobs, conserves resources and keeps harmful waste from entering landfills. Next time you find yourself with an unwearable T-shirt, we trust you'll know what to do with it.