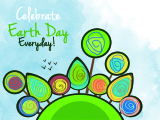 Earth Day has been celebrated since 1970 when the environmental movement was catalyzed by a U.S. Senator, Gaylord Nelson, who was inspired to take action after witnessing the ravages of 1969 oil spill in Santa Barbara, California. As a result of his efforts to spread awareness, on April 22 more than 20 million Americans took to the streets to demonstrate for a healthy, sustainable environment.
Forty-five years later, with more than a billion people expected to honor the day, the movement has grown into a world-wide celebration (and rightly so). Today there is no dearth of activities to celebrate. Here's a look at 10 Epic Ways you can bring the environment into the forefront of your day.
Take a Nature Selfie.
The EPA and The Nature Conservancy are asking you to show Mother Nature some love by taking your very own #NatureSelfie photo in April. Visit the #NatureSelfie website for more details on how to join in on this campaign!
Visit a your local museum.
The Earth itself really is its own masterpiece. So it's no wonder that museums across the country are dropping some serious knowledge on Earth Day.  From the Constitution Center in Philadelphia to the Space Center in Houston, you can take your environmental enlightenment to the next level by brushing up with the experts. Check out your local museums to see how they're celebrating.
Run for clean air.
Earth Day Fun Runs and 5Ks are an amazing way to do something healthy for yourself and for the planet! While raising awareness for clean air and environmental advocacy, you can run through your city, taking in your favorite nature spots.
Take it to the streets by joining a neighborhood party!
With more than a billion people participating in cities hosting festivals across the nation, today is the perfect day to have fun while meeting new people and make a difference. Your local e-newspaper is an ideal source for Earth Day events.
Make a Meal with locally-grown vegetables.
Buying locally produced foods and shopping at locally owned a store minimizes the amount of energy expended for product and helps support your local economy. Meal time is the perfect occasion for marking Earth Day. Instead of running to a chain grocery store, stop by a local farmers market to make your purchases.
Pay On-line.
Admittedly, this one doesn't sound like the most "epic" idea on this list, but it is life changing. By going paperless with your payments and financial correspondence, you will save trees and as a bonus, you'll save time for yourself. 
According to IdealBite ,if everybody in the United States started dealing with money online, it would save almost 19 millions trees every year, not to mention it would also save gas and natural resources. So if you haven't made the switch yet, Earth Day is the perfect time to make it happen.
Plan an eco-friendly adventure.
After Earth Day is said and done, there's no reason to stop doing nice things for the earth. You can extend the celebration by getting close and personal with your environment in an eco-friendly way. If expansive traveling isn't on your timetable, why not plan a day trip? Earth is home, so make yourself comfortable in your favorite park or go off the beaten path and discover something new!
Become one in a Billion. 
A Billion Acts of Green from the Earth Day Network is the largest environmental service campaign in the world.  While building commitments by individuals, organizations, business and governments, their goal is to inspire initiatives to reduce carbon emissions and support sustainability. From climate change to species extinction, A Billion Acts of Green offers accessible opportunities for anyone to lend a voice to a campaign that makes a difference in building a sustainable future. Click here to take action and join more than 1,123,960, 570 Acts of Green.
Use Again!
On Earth Day, doing something small and practical helps us reflect on how our everyday lives are connected to the earth's ecosystem. Changing our daily habits takes patience. So start small and keep it simple by changing an every day habit.
Perhaps, instead of recycling as usual today, take a moment to ask yourself if you can use something again or give it new life by cycling it back into the market place. At USAgain, we give a second life to your surplus clothes and shoes. Instead of sending them off to the dumpster where they accumulate more than 12 million tons of textiles in landfills, we help you help the environment by keeping it easy. Our textile deposit bins are visible in neighborhoods across America where you can simply drop your clothing and shoes for us to pick up and put back in use-cycle. We return them to the global marketplace, creating green jobs and reducing waste along the way.
Communicate your priorities to your elected representatives.

 
It's easy to get caught up in the fun and ceremony of such a meaningful day worldwide, but don't forget what the day is really about. Earth Day is a strong reminder that everyday is cause for public responsibility. Letters from constituents are very important to elected officials. Think locally. It's usually best to send letters to the representative from your local Congressional District or the senators from your state. For information on how to contact your elected representatives, try this page on best practices.
If you're one of the millions of people celebrating this Earth Day, tell us about it by visiting us on Facebook!