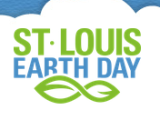 The St. Louis Earth Day Festival, first held in 1989, is one of the nation's biggest Earth Day parties. This year's fest is at the Muny Grounds in Forest Park, on Sun., April 21. And don't tell anyone, but Earth Day Fest 2013 has grown, and it's no longer a one-day event—Saturday, April 20th will mark the first time Earth Day Eve is celebrated.
The festival attracts around 30,000 attendees annually. There are numerous green events at the fest, but one especially worth noting is the Metro Bus Painting.
Starting around 1:30, festival attendees will be able to grab some paint and turn a St. Louis city bus into a work of art. Paint will be supplied to attendees, and the event is sponsored by USAgain. We're proud to be a silver sponsor at the 2013 St. Louis Earth Day Festival.
The metro bus to be painted will service the St. Louis area for a year. In past years, the metro bus painting has been done at the Green Homes / Great Health festival – check out the 2011 bus, one of our favorites. Other examples can be seen here. We're excited to sponsor the first metro bus painting at the St. Louis Earth Day Fest.
USAgain is thrilled to contribute to the St. Louis Earth Day Festival and connect with the local community. We aren't just sponsoring the Metro Bus Painting — we're also doing what we do best: collecting surplus shoes and textiles for recycling and reuse. This will be taking place at the Recycling Extravaganza.
We encourage all to connect with USAgain by visiting one of our information booths at the fest. We'll be on the Covered Walkway and in the "Reduce, Reuse, Recycle" neighborhood. Our collection bin will be on Sponsor Row and our virtual information booth will be in the Transportation neighborhood, near the bus.
USAgain's St. Louis division recycled nearly six million pounds of textiles in 2012, and while that's a significant amount, we won't be satisfied until all textiles are diverted from landfills. By spreading awareness of textile recycling at the festival, we hope to increase that number by a few million.
Whether you've been to every St. Louis Earth Day Festival or 2013 is your first time, check out the Metro Bus Painting event, and don't forget to bring clothing and shoes to recycle. The Earth Day Festival is St. Louis' environmental party of the year—come out and party with us!