Ever get a bad Christmas gift? Or, better yet, ever get a hilariously, ridiculously, awesomely bad Christmas gift, like the nose hair trimmer your grandmother sent last year?
It's OK—you can tell us. We've all been there.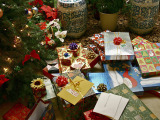 While the old saying goes "it's the thought that counts," some gifts simply have no practical use for some people. However, that doesn't make them useless, and it doesn't always mean committing the dreaded sin of regifting.
Of course, there is always the option of returning your unwanted gift to the store, provided a gift receipt was included, but that isn't always the case. People don't intend to give bad gifts so they often don't consider the fact that the recipient will be unhappy with it. Here are few ideas on what to do if that pair of overalls from Uncle Ed in Arkansas didn't come with a gift receipt.
Sell it online
For this one, let's take for example the nose hair trimmer from Granny. Yes, it's a downright weird gift that comes with peculiar connotations—do I seriously have that much nose hair?—but that doesn't mean it's universally unwanted. Take a quick look at eBay and Amazon; there's a market for nose hair trimmers, Mickey Mouse neckties and ugly sweaters.
Recycle or repurpose
While we're on the topic of ties and sweaters, there are a handful of options to get rid of your unpleasing gift if it came in the form of clothing. Aside from the ever-present option of dropping it in a USAgain bin, your out-of-style Christmas sweater might make a great outfit for Halloween or an ugly sweater party. If you're into creative upcycling, you could repurpose it into a wristlet, pillow or dog sweater. Dogs don't have a sense of style, do they?
Gift card resale markets
What about other gifts? If your great-great uncle forgot you're no longer 13 and sent a gift card for Toys"R"Us, you can use a website like Card Cash or Gift Card Rescue to sell or trade it for something more suitable.
White elephant parties
Yet another solution for unwanted gifts is to throw a white elephant party, where a group of guests brings their lousy gifts to exchange for others' lousy gifts. As long as the original giver of your gift isn't present, these parties can be a good time. Here's the basic set of rules for throwing a white elephant party.
According to a regifting survey commissioned by eBay, 83 percent of adults receive unwanted gifts during the holiday season so don't think you're the only one unwrapping disappointment this holiday season. Here's the plan: act surprised, put on a smile, say thank you and immediately think of how you'll get rid of your next bad gift.