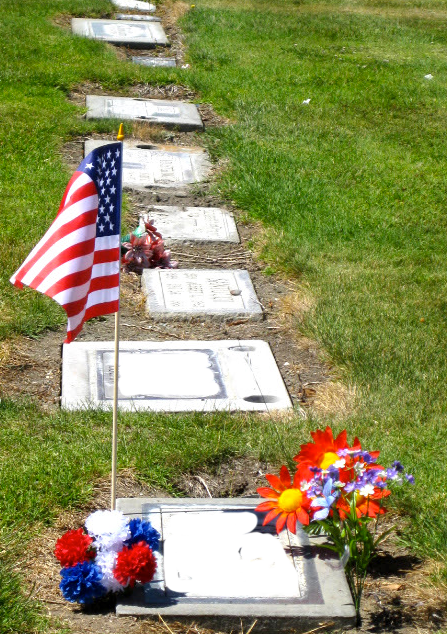 Memorial Day gives loved ones the opportunity to pay homage to men and women who died in the U.S. military.
Longtime celebrated family gatherings, solo trips to cemeteries, parades and other types of memorials comes locations riddled with flags on plastic sticks, plastic flowers and other nonrecyclable items on public grounds.
According to History.com, the holiday was made official in 1971. And while supporting the troops is always a good idea, but it's possible to embrace the environment at the same time.
For loved ones who choose to leave something behind while visiting cemeteries, weather-related damage or wear and tear usually leads to these items being destroyed.
It may be controversial to find that cemetery and grounds maintenance workers get rid of the mementos, but it's their job to maintain the area by fertilizing, mowing, mulching, planting, pruning, seeding and watering the land. With leftover decorations, that makes it incredibly difficult.
And since plastics and cloth (from flags) are recyclable, cleaning the items and reselling them before weather can destroy them is a handy and green way to recycle.
But for those who would rather their items not be resold or left as litter, consider alternative gift options when visiting cemetery grounds.
Ditch the plastic flowers for real flowers: For gardeners, this is a pretty easy thing to do. And if you know a gardener, there's no harm in putting a few extra dollars in her pocket by purchasing flowers from her as opposed to paying exorbitant rates from some flower shops. Scientific American discusses the controversy over the amount of water and pesticides used to grow the flowers plus the CO2 increase in flowery delivery transportation. If you're already headed to the cemetery and don't know a neighboring gardener, at least find a nearby flower store along the way.
Lose the plastic flag, keep it with you: There's no harm in temporarily sticking a cloth flag into the grounds while sitting at a cemetery. But take the flag when leaving. Donate the flag material or cut it up for decorations or clothing patches for jeans.
Companies like USAFlagSupply.com accept worn and tattered flags for proper disposal. Environmentally friendly vendors can purchase orders of recycled flags from eco-friendly companies, such as Alabama-based company RecycledUSFlags.com. According to their staff, the flags are made from melted down water and soda bottles, mixed with red, white and blue carpet fibers. The flag sizes come in 3 x 5, 4 x 6 and 5 x 7. The recycled flags are then cut up, and the stripes are sewn on. For the more crafty among us, this may be a great project for kids and adults with old clothes. It's also a more personalized gift.
Arrive empty handed but full of love: The federal government declared Waterloo, N.Y., as the official birthplace of Memorial Day. This location celebrated the day as early as May 5, 1866. But in addition to decorating graves with flowers and flags, the bigger deal was the people who showed up for the commemoration. Encourage other family and friends to gather together and reflect on the memories of fallen soldiers. This is also a perfect time to start a family journal (on recycled paper of course). Snap digital photographs of the site and family attendees, and add them to the journal entries. This family heirloom can be passed down for years to come, and this documentation is also a handy way for everyone to know exactly where to go should they choose to visit cemetery locations on their own.
USAgain sends best wishes to our readers on the upcoming Memorial Day. For more re-wearing, reusing or recycling tips, visit USAgain's blog here.
- Shamontiel L. Vaughn ([email protected]) 
To check out more eco-friendly blogs from USAgain, visit here. Follow us on Twitter @USAgainTweets and "Like" us on Facebook.