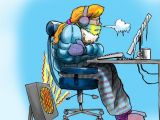 Ten Ways to Keep Cool Through the End of Summer and Boost Your Efficiency
Freezing in the office? Turns out, you aren't over reacting. According to a recent article from NPR, we may have had it wrong all along when it comes to indoor A/C temps. What's more, this engineering oversight has been ramping up summer energy bills, contributing to pollution and leaving many in the workplace shivering.
As Rae Ellen Bichel explains, the standards for setting indoor air conditioning have been based on the 1930's definition of metabolic equivalents - how much energy a body requires when sitting, walking and running. In regards the workplace, it's likely that the metabolic equivalents were used for that of a 40 year old, 155 pound man wearing a suit.
Researchers say, it's time to set the numbers straight - so that A/C settings aren't biased towards one gender or body size. In order to keep everything running at optimal speed, the human body and its vital organs needs to maintain a temperature of 98.6. And studies have shown that bodies of different size, age and gender will work quite differently. So, when we get the temperature drastically wrong for one group, they have to work harder which can impact overall workflow and efficiency. (If you're sick of those typos from your co-worker, now you know what to do!)
While it's challenging for a building manager to pinpoint exact temperature variation among body types, international energy experts say that it is clear that Americans tend to keep their buildings way too cold. International standards suggest a setting between 73 and 79 degrees Fahrenheit, but often the U.S. ranges between 68 and 73 Fahrenheit.
Why should we care? Temperature, as mentioned above, impacts productivity and also, cold air is expensive and takes a toll on the planet. So getting the temperature right can help you make more money while saving money - and of course, helping the environment.
As we ride through the sultry dog days of summer, there's still time to get it right. Here are 10 simple ways to save energy and money while keeping cool through the end of summer.
Set your thermostat as high as is comfortable. The closer towards the 79 degree end of the spectrum, the better.
Dress Code. Instead of layering sweaters, consider your foundation first. In 2005, Japan introduced a summer dress code that began in public buildings and soon spread to the private sector. A year later, the program reported that it had seen a 1.14 million-ton reduction in CO2 emission - which is the equivalent of CO2 emissions by about 2.5 million households for one month.
Maintainance. Have your A/C tuned up and clean or replace your filters monthly for efficiency.
Close your windows and blinds by day and keep them open at night. This is a no-cost, no-brainer type of way to cool down your house.
Window, ceiling and whole-house fans will also keep your home cooler, with minimal costs.
Use cold water to wash your clothes and make sure you're cleaning your lint filter with every use.
Take advantage of the heat and line dry your clothes when possible.
Unplug electronics when not in use. Use a power strip for appliances and electronics and make sure you turn it off when they are not in use.
Use the dishwasher only when it's fully loaded and turn off the dry cycle. Air dry instead.
Turn off unnecessary lights. Much of the energy from a light bulb is heat.