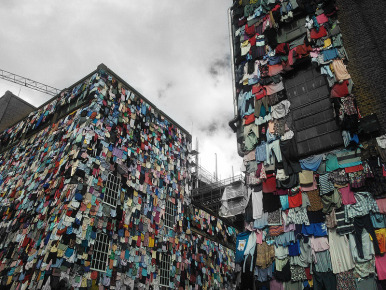 If you're familiar with the secondhand clothing industry, you may have come across the statistic "70 percent of the world wears secondhand clothes." It's a useful figure to show that used clothing is a major part of the lives of billions of people, but what exactly does it mean? Let's take a closer look.
Industry facts
The secondhand clothing trade is worth over $1 billion dollars worldwide, and the U.S. is the world's largest exporter of secondhand clothing. Americans have an overabundance of used clothing as we manage to throw away an average of 68 pounds per person while still exporting more clothing than any other country.
Although the amount of clothing waste in the U.S. is concerning, Americans are getting better at reusing clothes, as consignment, thrift and resale shops have grown at least 7 percent annually since 2010. The U.S. currently has an array of options for people to reuse clothing—from for-profit companies like USAgain to charities and nonprofits—but too much clothing still goes into landfills and not enough into the growing market for secondhand clothes.
Where does it go?
Africa is a major importer of secondhand clothing, as secondhand items make up over half the volume of clothing imports in many sub-Saharan nations. For some U.S. clothing recycling and collection companies, as much as 80 percent of total collections are sent to Africa.
Winter items like heavy jackets and gloves don't serve much use in Africa, so they're typically sent to Eastern Europe and South America, in addition to being sold at secondhand shops in the U.S.
Collectible items like vintage jeans and designer accessories often make their way to high-end secondhand stores in Japan.
The J-word
Secondhand clothing creates jobs around the world. Domestically, recycling and reuse companies employ 85 times more people on a per-ton basis than waste removal companies, and in foreign countries, thousands of merchants are able to provide for their families by obtaining and selling secondhand clothing. As the secondhand clothing trade continues to grow it's inevitable that more jobs will be created. For these jobs to be created, though, we must stop throwing away our perfectly reusable clothing.
As the affluent nations of the world continue consuming large amounts of fast fashion, it's always important to consider how clothes should be disposed of once they no longer fit or are in-style. Whether they are resold in a Congolese open-air market or a mall in Tokyo, reusable clothing is always worthy of a second life.