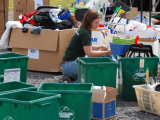 Every spring, on campuses around the nation, change is in the air. The grass gets greener and blossoms begin to flourish around famous landmarks. The majority of students will breathe in the sweetness of their new surroundings just long enough to say goodbye before stuffing their cars to the brim with boxes from overflowing dorm rooms.
Let's be real: free swag (Stuff We All Get) is like an unspoken campus currency. Unfortunately, the costs of a fun year filled with free t-shirt and tote bags amounts to textile waste that can add up for campuses when move-out time comes around.
With the average college student producing 640 pounds of solid waste each year, textile recycling is becoming a valuable option for campuses relying on recycling programs to improve their energy efficiency.
Thanks to community partnerships with for-profit recycling companies, campuses are able to reach waste reduction goals with no added work and even raise additional money through eco-friendly fundraising programs such as USAgain's "Green Your Move Out."
With campus recycling on the rise, participation and efficiency is key. Not to mention, students who are forming habits they will carry for the rest of their lives are balancing busy schedules with lifestyle choices. USAgain – a recycling company that gives a second life to unwanted textiles makes it easy, providing colleges with convenient drop off bins and no-cost pick up. While promoting environmental stewardship, students are able to lighten their loads by dropping off surplus clothing and shoes for recycling. After which, each school receives a check for their participation in the program. Click here to get started and learn more about last year's inaugural success, where thousands of pounds of clothing were diverted from landfills.
Just like college, moving out is a transition time in itself. It's an opportunity to think about what we need and what we'll continue to use. A Green Move Out is an opportunity for students to re-purpose clothes and household items they no longer need while supporting the local and global economy in the process. By deciding to give a new life to your belongings in the marketplace, you are generating revenue and creating green jobs in the U.S. and abroad while also making a healthier planet.
According to the EPA, 12 million tons of textiles were sent to landfills in 2012. In addition to a convenient textile recycling program, you can partner with local organizations to ensure that your campus move out includes opportunities to collect unwanted food, furniture and other household items.