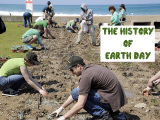 In April 1970, before hybrid vehicles, emissions standards and even the EPA, an idea was born.
Gaylord Nelson, a U.S. Senator representing Wisconsin, was troubled by the devastation of the 1969 oil spill in Santa Barbara, Calif. The Santa Barbara spill hemorrhaged 200,000 gallons of crude oil into the Pacific and cost the lives of over 3,600 seabirds. The problem lied in the "cutting corners" mentality that was encouraged by the U.S. Geological Survey. To summarize the USGS ideology and policies of the era, oil companies and other enterprises were allowed to operate at standards that were unsafe in an effort to save money.
Nelson was familiar with the anti-war movement of the '60s and realized a similar movement was necessary if environmental reform was ever to come. He recruited a few other Congressmen and assembled a national staff in preparation for what would be America's first Earth Day, held on April 22, 1970. That day, 20 million Americans took to the streets, parks and universities to voice the need for pro-environmental action and legislation. It's been history ever since.
Earth Day Timeline
April 22, 1970: First Earth Day is celebrated in U.S.
December 1970: Congress authorizes creation of the Environmental Protection Agency, a federal agency to deal with environmental issues.
April 1990: Earth Day goes international as 141 countries celebrate.
April 1995: Gaylord Nelson pitches the idea of "Earth Week" for schools and communities, with the goal of grassroots environmental education.
April 2010: EarthDay.org is created to serve as an online action center for Earth Day participants worldwide.
The beauty of Earth Day is its inclusionary spirit; it is both a large scale call to action for governments and nations, and a small scale campaign for schools, communities and individual people to do things like recycle more and reduce water and electricity consumption at home. It's also a call to action for businesses.
What's USAgain doing?
As a green business, participating in Earth Day and Earth Month events is a must for USAgain. We recently held Prom Goes Green, a giveaway of prom dresses to high school girls in the Chicago area. The dresses, all in gently used or like-new condition, were given to students, and with them, the message of reusing and recycling clothing instead of letting it go to waste. You can see our official recap video of the event here.  Our Chicago division is also partnering with Agassiz Elementary School to go green, as we'll lend a hand at their "Clean Out Your Closet" event this week.
We're also in the process of our annual Earth Month Challenge, a recycling drive where schools across the country compete to recycle clothing and textiles, with five cash prizes awarded at the end of April. See the Earth Month Challenge page and see the standings here – they're updated daily.
Several of our divisions are observing Earth Day by planting trees. USAgain St. Louis is planting in partnership with Habitat for Humanity Saint Louis - the planting will commence this Friday, April 19. We're planting seedlings at the Tappmeyer House, a historic site in Creve Couer, MO, on April 26. USAgain Minneapolis is also donating trees to be planted next month in cooperation with the Trees for St. Paul program.
We're excited for Earth Day 2013 and thrilled to contribute to the Earth Day mission on both local and national levels. Drop us a line and tell us what you're doing to celebrate Earth Day.